Hospitality, Food & Beverage Portfolio at Informa Markets
Informa Markets' Hospitality, Food & Beverage portfolio includes a series of global in-person, hybrid/smart trade events, and an online marketplace – Saladplate, aimed at fostering business relationships, enable learning, and to enhance trade opportunities for the industry.

With several established events within the portfolio such as Hotelex Shanghai, FHC Shanghai Global Food Trade Show, Food&HotelAsia, HOFEX, Fispal Food Service, and Abastur, the portfolio together offers an unparalleled audience reach across the world. Staging 28 live events in major cities including Shanghai, Hong Kong, Singapore, Ho Chi Minh City, Seoul, Kuala Lumpur, Mumbai, Bangkok, Sao Paulo, and Mexico City.

Working alongside established industry partners, government bodies and recognised professionals, the portfolio aims at bringing companies, individuals, and the industry to the forefront of global business innovation, by offering solutions and opportunities that meet today's business needs.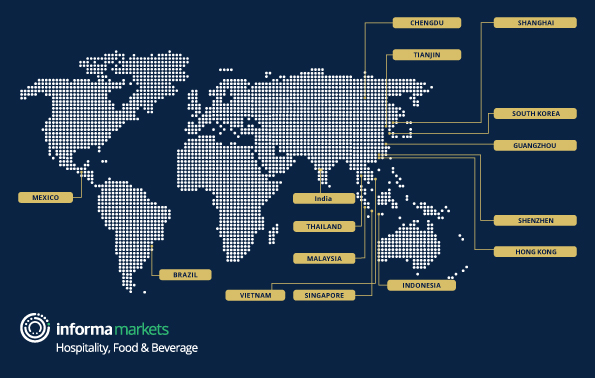 Shanghai Sinoexpo Informa Markets international Exhibition Co.,Ltd is authorized by informa Markets to be the exclusive China Agency, which covers the series exhibitions of Food, Hotel & Beverage within informa Markets Asia Pacific area as below:
Restaurant & Bar Hong Kong x Gourmet Asia
2023.9.5-7,2024.9
Hong Kong
Natural&Organic Asia
2023.9.5-7,2024.9
Hong Kong
FOOD, HOTEL& TOURISM BALI
2022.9.22-24,2023
Bali
FHA HORECA ASIA
2022.10.25-28
Singapore
FOOD & HOTEL VIETNAM
2022.12.7-9,2023
Ho Chi Minh City
FHA FOOD & BEVERAGE ASIA
2023.4.25-28,2024.4
Singapore
HOFEX
2023.5.10-12
Hong Kong
SEOUL FOOD & HOTEL
2023.5.30-6.2
Seoul
FOOD & HOTEL INDONESIA
2023.7.25-28
Jakarta
FOOD & HOTEL THAILAND
2023.8.23-26
Bangkok
FOOD & HOTEL MALAYSIA
2023.9.19-22
Kuala Lumpur
FOOD & HOTEL HANOI
2023.11.21-23
Hanoi
If you want to book a booth for any series exhibition hosted by Informa Markets, please contact us with our relevant person in charge:
Jason Jin
Tel:021-3339-2197
Email:Junyan.Jin@imsinoexpo.com